Les Grenades
A friend told me that "grenade" is the French word for pomegranate. I immediately saw this painting take shape.
The red pomegranate on the left is the kind you find at the grocery store. The other two, well, I am lucky that my neighbor has a pomegranate tree! He gave me two fresh ones. You'll note that the blossom end is still fleshy with moisture and the open one on the left still has the dried stamens.
Oil on panel. 11" x 14"
$1850 Sold
Shellshocked
Oil on panel, 8" x 10". Two rights-of-refusal on it at the moment.
$960
SOLD
Still Life with Pineapples
Strike Three
Did you know that the small round grenade is called a baseball grenade? That's the inspiration here.
Oil on panel. 8" x 10"
$960 Sold.
Lost My Marbles
Oil on cradled panel. In a black floater frame. 11" x 14". Awarded First Place the Strokes of Genius national painting show at Maryland Federation of Art in Annapolis, 2017.
$1850. Sold from McBride Gallery.
Losing My Marbles
One of the difficult parts of this painting was, of course, the marbles. Because they have to be accurately round. The fun of painting them was all the swirling colors. I especially like that the transparent green marble magnifies the linen weave.
I was able to sell this one before it was finished. The client waited three months before I was able to deliver it. Thank you J, for your patience!
Oil on panel. 11" x 14"
Omelet
Oil on panel. 11" x 14". Catch those eggs before it's too late! Fun with shadows again. I enjoyed capturing the texture of the egg carton.
$1850. Sold
The Mouse Takes the Cheese
Oil on panel. 8"x6". And a few extra inches for the mouse.
Sold in less than 24 hours!
Pollock's Secret
Oil on panel. 14" x 11".
An homage to Jackson Pollock's drip paintings of the 1950's. Style could not be more different!
Sold
Light Reading
Number nine in the "kinetic" series. Although it was the spectacles that inspired this painting, I'm very pleased with the books, especially the old bible with worn edges.
Oil on panel. 11" x 14".
$1675. SOLD
Through McBride Gallery, Annapolis.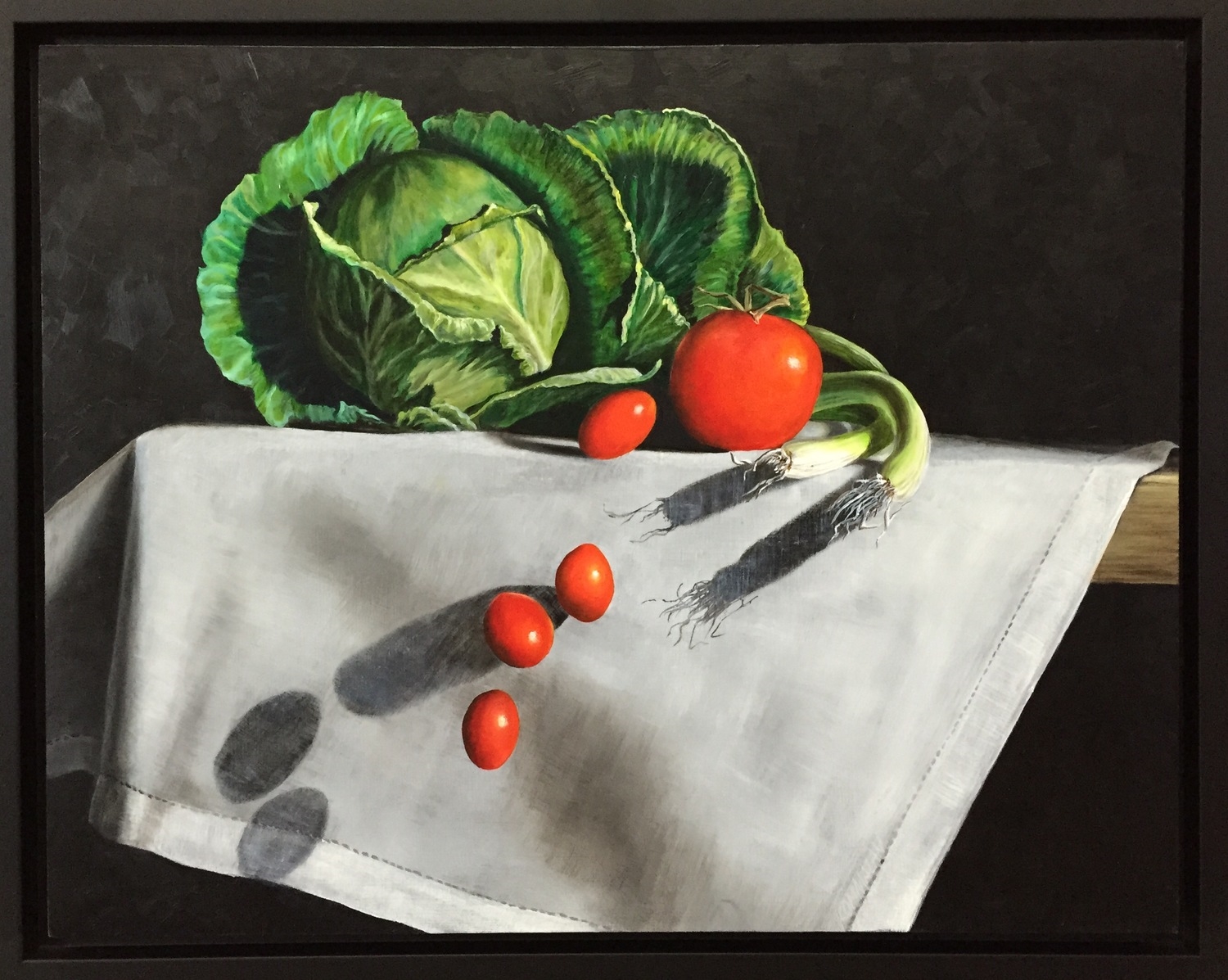 Fall(ing) Harvest
This is the seventh in this ongoing series of still life paintings showing movement. I love doing these and am anxious to finish the next one and make more of them.
Oil on birch panel. 14" x 11
Sold
Pens and Pencils
Number five in the "kinetic" series.
Oil on birch panel. 11" x 14".
$1500 SOLD
Make Lemonade!
Another "kinetic" still life, this one has several falling lemons.
Oil on birch panel. 11" x 14"'.
First Place Winner at UMMC Annual Art Show, 2014
Honorable Mention, MD Federation of Art, Spring Member's Show, May 2014
Accepted work, Mitchell Gallery, St. John's College, Annapolis, MD 2015
$1500 SOLD
Eggs and Eggplants
A friend gave me these eggplants from her garden. The rich purple color just begged to be painted.
Oil on birch panel. 11" x 14".
$1650. SOLD
Tomato and Plum
A companion to Red Onions and Tomato
Oil on birch panel, 14" x 11". SOLD
This painting placed First in the show at Quiet Waters Gallery in Annapolis, Maryland, 2014.
©2013 DHK
Red Onions and Tomatoes

A trompe l'oeil painting. I especially like the cloth.
Oil on birch panel, 11" x 14". SOLD
Study of Melendez
Study of Luis Melendez; "Still Life with Chocolate Service, Bread Roll, and Biscuits". The original is located in Madrid at the Prado.
Oil on canvas, 20" x 14".
SOLD Private Collection.
Parking in Denver
The first in an ongoing series of signs.
I love the brilliant colors of this sign. I spotted it while jogging down the street, late for a lunch meeting. I snapped a photo and ran on. Took me two years to get around to painting it. I found that the work was in painting the building, getting the angles right so it would not look like it was falling over. Painting the sign was the fun!
Oil on canvas, 24"x24". Private collection.
SOLD
©2008, Deborah Kommalan
Parking at the Fitz
Parking garage painting (number six in the series) shows a traditional parking sign at the Fitzgerald, a new apartment complex in Baltimore, Maryland.
Oil on canvas, 20" x 24".
SOLD
©2011 Deborah Kommalan
Parking in Annapolis
This parking garage is located in Annapolis, Maryland. It's a bit different as it has a brown background. Number five in my ongoing series.
Update: This was a gift to the owner of this parking garage from the credit card company which the garage now accepts. Interesting!
Oil on canvas. 20"x20".
$850 SOLD
© 2014 Deborah Kommalan
Bill's Mask
A papier maché Mardi Gras mask from Venice, Italy. I was struck by the shadows; I feel they are the most important part of this painting.
22" x 14". Oil on gessoed paper. Sold
©2013 Deborah Kommalan
Claire's Toe Shoes
A commission for an aspiring, hard-working ballerina.
Oil on canvas, 24" x 12".
North on Calvert
A nighttime view of Calvert Street in Baltimore. The intention here was to capture that radiant deep blue one sees at dusk.
Oil on linen, 20"x16".
SOLD
©2012 Deborah Kommalan
Still Life with White Cloth
Painted using no black paint; shadows are ultramarine, terre verte, and alizarin crimson. This painting was chosen for the Caruso award for still life at the MFA winter show, January 2011, Annapolis, Maryland. Oil on canvas, 12"x24''.
SOLD
©2010, Deborah Kommalan