Don't Cry
My second go at painting moving liquid. Since the milk is white, the cloth needed to be a color. Putting a layer of green over the blue gave the cloth depth.
Oil on panel, 11" x 14".
Wasted
Oil on panel, 12' x 16". Wasted in more ways than one!
London Bridge...
I love the title of this latest "kinetic" still life, the falling blocks absolutely dictated the choice. It always brings a smile. It comes with a QR code which plays London Bridge is Falling Down...
Oil on birch panel. 11" x 14"'.
Tulips
Oil on birch panel. 11" x 14".
When I saw these tulips at the local grocer, I had to have them. Spectacular pink!
Tea for Two
In the style of Luis Melendez. Oil on panel, 10" x 12". Private collection.
Giclée prints on canvas are available. $250. framed. $50 unframed.
White Cloth with Anemone
Along with the white cloth in this, the fourth canvas in this series, I have placed an anemone. They were so deep blue this spring. In the cloth I was working with creases instead of folds and with the flower, the transparency of the petals.
Oil on canvas, 11" x 14".
$495
White Cloth with Tomato
This is the third canvas in the series depicting the white tablecloth. I love the impact of the very ripe tomato. And I had fun working with the glass, making it transparent and reflective.
Oil on canvas, 11" x 14".
$495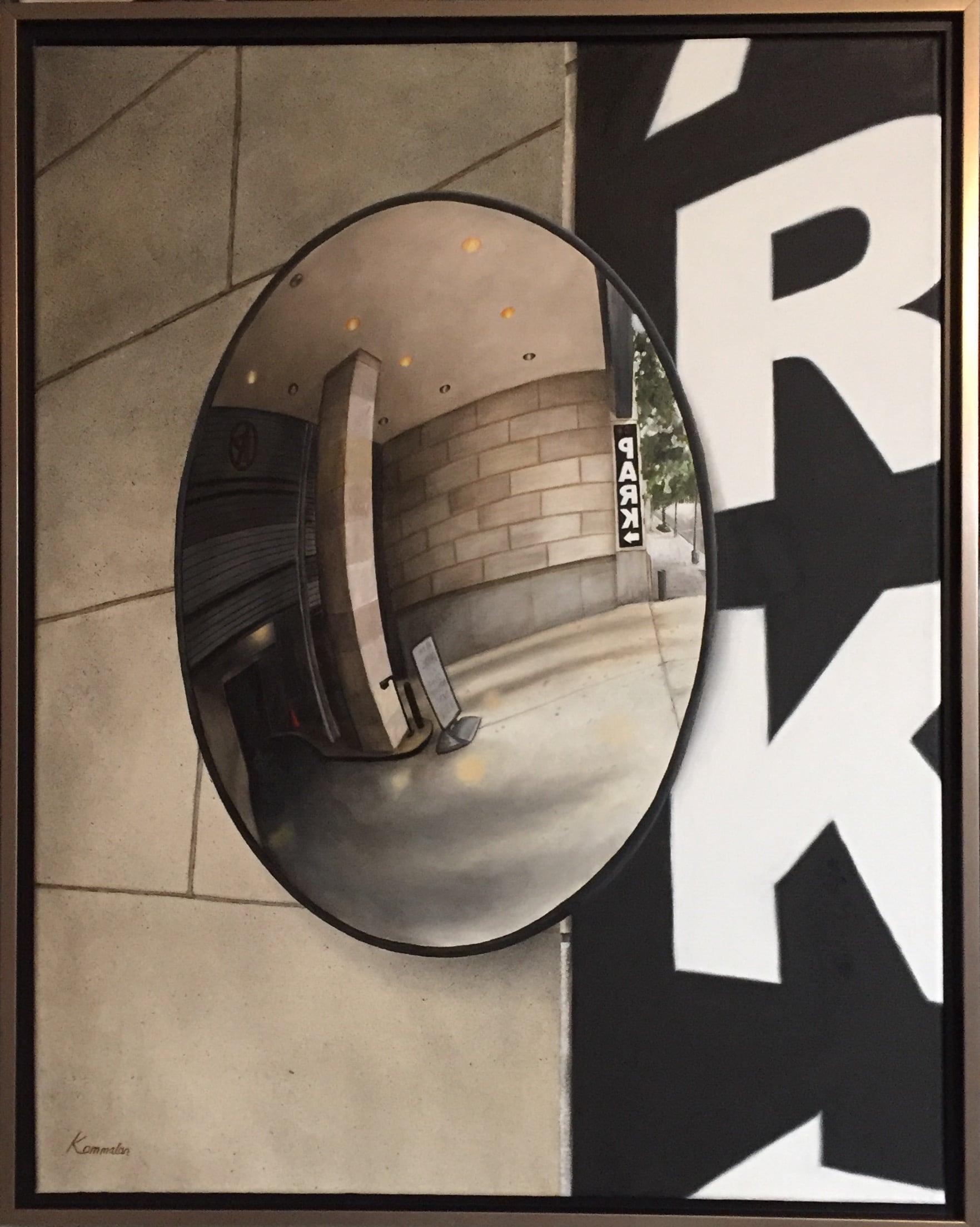 Sixth Street Parking
Finally I have another parking garage painting in the ongoing series. I think it's the ninth one! I was most intrigued by the convex mirror used to view the traffic before exiting. This one was fun to paint.
Oil on canvas. 28" x 22".
$1975
President Street Parking
Fourth in the series of signs.
Oil on canvas, 24" x 18". Modern realism. First place winner at the Fall Members' Show at the MFA in Annapolis, October 2010.
First Place winner again at UMMC National Arts Program. 2013
$1550